All times shown in Mountain Time
Thursday, November 17th, 2022
Friday, November 18th, 2022 – Sturgis Community Center
7:30 AM
Registration Begins
Breakfast by Chef Travis Bartels
9:00 AM
Welcome & Announcements
9:15 AM
KEYNOTE
Natalie Stites Means
"Landback, Tresspass, & Other Indigenous Matters"
10:15 AM
Snack Break; Vendor Fair Begins
10:30 AM
Jeremy Nelson
"Growing and Marketing Unique Vegetable Varieties"
Barbara Cromwell
"SNAP and Incentive Programs at Farmers Markets"
Peggy Martin & Bud Manke
"Automation for High Tunnels, Watering Systems, and Monitoring Coolers"
11:30 AM
Break
11:45 AM
Travis Bartels, Jordan Taylor, Matte Wilson, and Franky Young
"Chef Panel"
12:45 PM
Lunch by Chef Jordan Taylor
1:45 PM
Rhoda Burrows & Kristine Lang
"Soil Health & Cover Crop Management for Vegetable Production"
Brooke Wier
"Getting Started with Farm Service Agency"
Lisa Surber & Jaelyn Whaley
"Lamb & Wool: Adding Value to your Operation"
2:45 PM
Snack break
3:00 PM
Darin Waldner
"A Mechanical Engineer's Approach to Gardening"
Kari O'Neill
"Creating an Action Plan You Can Follow"
Shawn Freeland
"Cover Crop Strategies"
4:00 PM
Break
4:15 PM
Nick Hernandez
"Regenerating a Local Food System on the Pine Ridge Reservation"
Ken Charfauros, Kyle Cox, Lynn Dunker, Rhonda Ramsdell, & Cindy Tolle
"Farm to School Panel"
Bryan Mitchell
"Controlled Environment Agriculture at Western Dakota Technical College "
5:15 PM
Evening on Your Own
Saturday, November 19th
7:00 AM
Registration
Breakfast by Chef Travis Bartels
8:00 AM
Amanda Blair, Ryan Schmid, & Michelle Tyon
"SARE Farmers Forum"
8:50 AM
Break
9:00 AM
KEYNOTE
Hannah Breckbill
"Relying on Each Other: The Practice of Community"
10:00 AM
Snack Break
10:15 AM
Michelle & Rick Grosek & Kiara Poitra
"Pricing Your Products"
Eliza Blue
"Start Small, Dream Big"
Jamie Boley
"Chicken Processing"
11:15 AM
Break
11:30 AM
Trish Jenskins, Jeremy Smith, and Rachel Saum
"Some Things About Seeds"
Hannah Breckbill
"Adding Livestock to a Vegetable Farm"
Rachel Frei & Tanse Herrmann
"The Urban Agriculture Initiative at USDA"
12:30 PM
Lunch by Chef Travis Bartels
2:00 PM
Farm Tour: Bear Butte Gardens
Farm Tour: Moonrise Mountain Ranch
Farm Tour: Belle Valley Ancient Grains
3:00 PM
Travel Time to 2nd Tour
3:30 PM
Farm Tour: Bear Butte Gardens
Farm Tour: Moonrise Mountain Ranch
Farm Tour: Belle Valley Ancient Grains
End of 2022 Conference
Farm Tours
This year's conference will conclude with Farm Tours highlighting three different farms in the Sturgis Area. After a weekend of learning and hearing from experts in agriculture, these tours will provide an opportunity to see regenerative farming in action.
Bear Butte Gardens

Bear Butte Gardens is a USDA organic certified and Real Organic Project certified small family farm owned and operated by Michelle and Rick Grosek. Our goal is to provide the freshest, most nutritious farm produce and meats to our local customers near Sturgis, South Dakota. Our year-round farm stand is our sales outlet for not only our own farm products, but also for products from over 50 other growers, crafters, and producers in the region. We also have a commercial kitchen next to the farm stand that is frequently rented out to caterers and farmers market vendors for creating the products they sell.
Learn more about Bear Butte Gardens on their website.
Belle Valley Ancient Grains

Brian and Linda Stambaugh have been at the farm near Newell for 20 years. Brian has had a 40 year career as an Engineer/Geoscientist in the oil and gas industry and returned to about 8 miles from the dairy farm where he grew up. Linda is a retired registered nurse and enjoys the lower stress level of packaging wheat vs that of home health nursing. In 2015, seeking a value added alternative to hay, they began growing heirloom/ancient grain. This side of the farming has grown over the years with retail shipments nationwide, bulk deliveries to bakeries, and on-farm sales of the organic grains and fresh-milled flour. The farm was certified organic in 2018. Products include Red Fife hard red, Clark's Cream hard white, White Sonora (soft white), Spelt, Emmer and Einkorn ancient wheats and also flaxseed. The whole grain is available in 2.5, 15 and 50 lb bags, flour is milled as ordered for freshness and is available in 2, 10 and 50 lbs. Brian is a big advocate for the use of the much more nutritious true whole grain products and encourages customers to invest in a small home mill and mill their own flour!
Learn more about Belle Valley Ancient Grains on their website.
Moonrise Mountain Ranch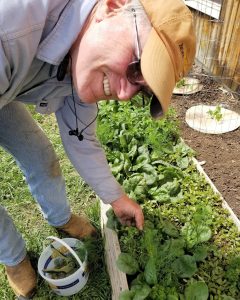 At Moonrise Mountain Ranch in the Black Hills of South Dakota, we are a wife and husband team of vegetable, fruit, and livestock growers. Talli Nauman and Dahl McLean learned and practiced family farming techniques as youngsters growing up in the 1960s and 70s in rural South Dakota and Iowa, respectively. The artisanal methods handed down to us came from earlier generations of relatives who settled here in the Missouri and Mississippi River valleys, as well as from the teachings of Native Americans for whom this land we care-take is sacred. Our matrimony was premised on the mutual desire to jointly enjoy, preserve and promote the socio-economic and nutritional values of local gardening and marketing. Our Moonrise Mountain Enterprises, with the down-to-earth slogan "We Plow, You Chow", is humbly dedicated to sharing the benefits of natural, chemical-free holistic husbandry with the surrounding community. We are empirical horticulturalists who consider ourselves to be part of a worldwide effort of like-minded producers bent on rescuing traditional knowledge in the interest of healthier more sustainable ecosystems, fair trade patterns, and improved quality of life. We believe that humans' purpose on earth is to care for it.
Learn more about Moonrise Mountain Ranch on their Facebook Page.
---
This year's event is made possible by our planning committee: